# MXKit
The MXKit series development kit launched by Shanghai MXCHIP can be used for the development of Internet of Things and intelligent hardware prototypes.
It provides developers with an out of the box smart hardware solution that facilitates the verification of users' software and functions, enables products to be quickly and securely connected to cloud service platforms and mobile terminals, shortens the research and development cycle, and quickly goes to the market.
MXKit development kit consists of MXKit Base and MXKit Core, including:
MXKit Base board is a universal development motherboard with rich peripheral interfaces, which can be compatible with all MXKit Core boards.

MXKit Core board is an IOT access core board containing MXCHIP wireless communication module.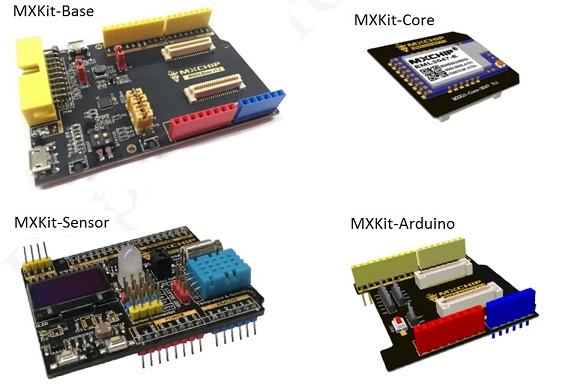 #
Circuit Components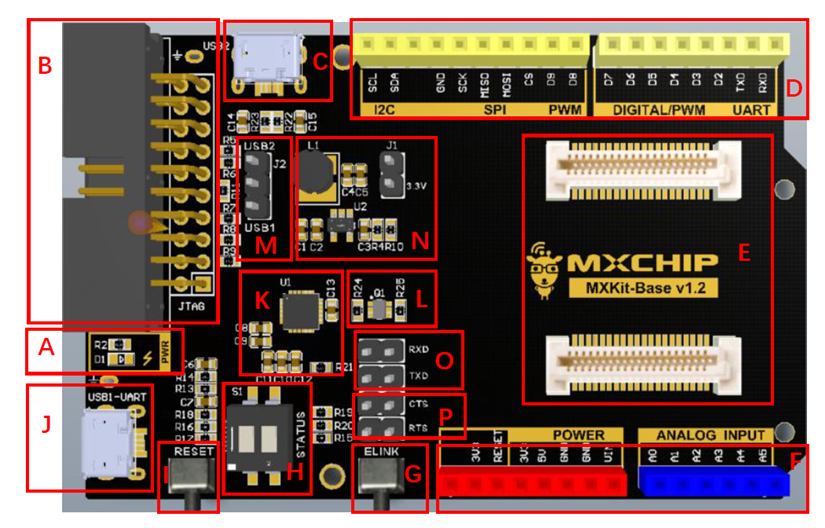 Num

Description

A

Power LED

B

Standard JTAG/SWD interface

C

MicroUSB interface provides power for the system and USB data transmission function

D, F

Arduino standard interface

E

MXPort interface

G

Easylink key

H

2-bit dial switch (BOOT&STATUS)

I

RESET key

J

MicroUSBinterface provides power for the system and USB to dual UART function

K

USB to dual UART circuit

L

Automatic control circuit

M

Power selection

N

5V to 3.3V power conversion circuit

O

USER_UART_ TXD & USER_ UART_ RXD jumper terminal of wireless module

The default is short circuit. At this time, the user serial port and debug serial port log information of the module are output from J;

When there is no short circuit, the user serial port log information of the module will be output from the UART port in D.

P

USER_ UART_ CTS & USER_ UART_ RTS jumper terminal of wireless module

The default is short circuit, and the user serial port hardware flow control function of the module is enabled;

When there is no short circuit, turn off the user serial port hardware flow control function of the module.、
#
Download